March is National Nutrition Month. This annual campaign strives to educate and inform about the importance of making good eating choices. The theme for 2017 is "Put Your Best Fork Forward", which acts as a reminder that each bite counts. Making just small shifts in our food choices, can add up over time.  National Nutrition Month® inspires us to start with small changes in our eating habits – one forkful at a time.
Naturally, PSNM wants to help you get excited about all the delicious food you can enjoy while on the path to maintaining good eating habits.
Healthy food is far from boring when you've got your hands on fresh ingredients and flavourful recipes. Here are some of our top picks to show how much there is to look forward to when it comes to getting the most out of nutrition.
We hope you'll start with small changes and commit to promoting healthier lasting changes for all of our communities.
Bon Appétit!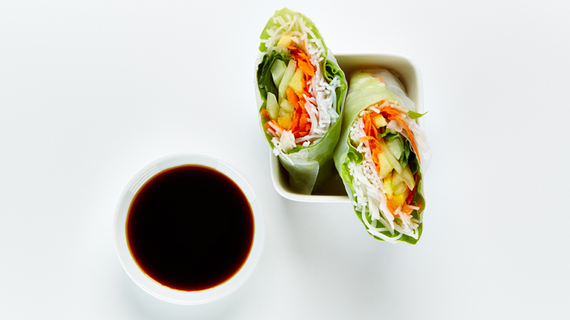 Making fresh salad rolls couldn't be easier. Grab this Vegetable Salad Roll recipe and get rolling because they make for a perfect healthy appetizer. Simply wet the rice paper in water, fill them with a combination of vegetables (or shrimp or chicken, if you prefer) and dip them in your homemade Thai Dipping Sauce.
INGREDIENTS
Vegetable Salad Rolls: 
1 package (6oz/175g) rice stick noodles
10 round rice paper sheets
10 green curly lettuce leaves
1 medium carrot, peeled and shredded
2 ripe mangos, peeled and julienned
1 English cucumber, peeled, seeded and julienned
3 tbsp plus 1 tsp fresh chopped basil
Thai Dipping Sauce: 1/4 cup soy sauce
3 tbsp mirin
2 tbsp rice wine vinegar
1 tbsp sugar
1 tsp sesame oil
1 tsp grated fresh ginger
1/8 tsp hot sauce (Sriracha brand)
DIRECTIONS
1) For the salad rolls, bring a medium pot of water to a boil. Add rice stick noodles and cook according to package directions. When tender, drain, rinse with cold water and drain well again. Set aside.
2) Place 1 rice paper sheet in a shallow bowl or pie plate of hot water until just softened, about 1 minute. Lay rice paper sheet on tea towel. Place a lettuce leaf down the center of the rice sheet leaving a 1-inch border at the top and bottom. Place 1/4 cup rice noodles lengthwise on the lettuce leaf followed by 1 tbsp shredded carrots, 6 slices of mango, 4 slices of cucumber and 1 tsp chopped basil. Fold up the bottom 1-inch border of rice paper placing it over the filling. Fold in the right side, followed by the left side and then the top, forming a tight cylinder. Repeat with remaining rice paper sheets and filling. Serve with dipping sauce.
3) For the dipping sauce, in a medium bowl, whisk soy sauce, mirin, rice vinegar, sugar, sesame oil, ginger and hot sauce.
Yield: 10 large salad rolls
Zesty Mediterranean Couscous Salad (Via Bite Me More)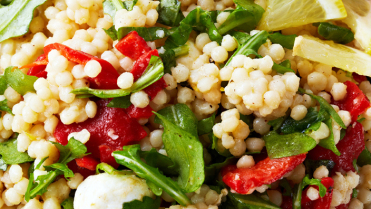 A super-easy recipe, this satisfying salad combines tender Israeli couscous (aka pearl couscous) with roasted red peppers, arugula, mozzarella and basil.
INGREDIENTS
Lemon Dijon Dressing
¼ cup olive oil
2 tbsp fresh lemon juice
1 tsp Dijon mustard
1 tsp honey
¼ tsp kosher salt
¼ tsp freshly ground black pepper
Couscous Salad
2 tbsp butter
2 garlic cloves, minced
1 ¾ cups Israeli (aka pearl) couscous
1 tsp lemon zest
3 cups chicken broth
1 cup roasted red peppers, diced
2 cups lightly packed baby arugula, chopped
¾ cups fresh mozzarella cheese, diced
1 tbsp chopped fresh basil
Lemon slices, for garnish
DIRECTIONS
1) For the dressing, in a medium bowl, whisk together olive oil, lemon juice, Dijon mustard, honey, salt and pepper set aside.
2) For the salad, in a medium saucepan, melt butter over medium heat. Add garlic and cook for 1 minute. Add couscous and lemon zest, cooking 3 minutes, until toasted and lightly browned, stirring often. Add chicken broth and bring to a boil. Reduce heat and simmer uncovered for 10 minutes, until couscous is tender. Remove from heat and transfer to a large bowl, allowing to cool for 10 minutes. Stir in peppers, arugula, mozzarella and basil. Toss well and garnish with lemon slices.
Serves 6
Roasted Halibut with Avocado and Corn Salsa (Via Bite Me More)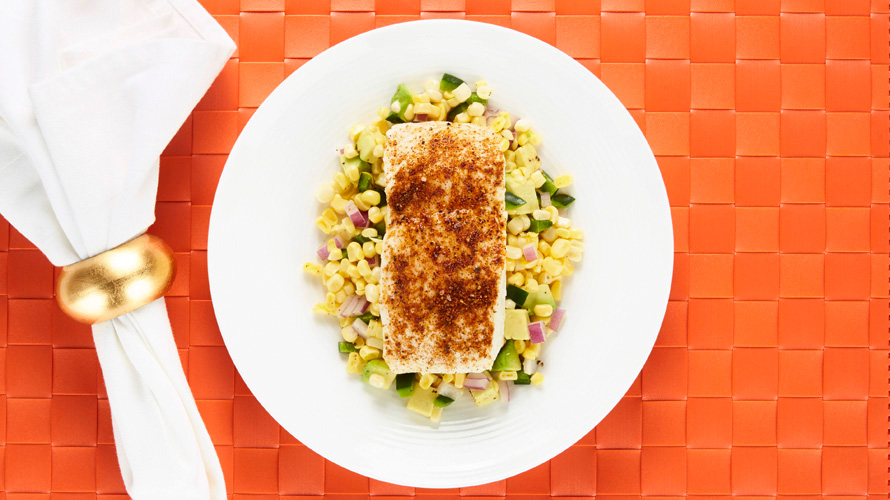 This Halibut with Avocado & Corn Salsa is a deliciously healthy dinner that can be served up in only 15 minutes. Roasted until tender, spice-rubbed halibut is placed atop a fresh corn and creamy avocado salsa.
INGREDIENTS
Avocado & Corn Salsa
2 large ears fresh corn, shucked, kernels removed
1 ripe (yet firm) avocado, chopped
1 poblano pepper, seeded and chopped
¼ cup chopped red onion
1 tbsp apple cider vinegar
2 tsp sugar
½ tsp kosher salt
¼ tsp freshly ground black pepper
4 (6oz each) halibut fillets
1 tbsp olive oil
¼ tsp ground cumin
¼ tsp chili powder
¼ tsp kosher salt
¼ tsp freshly ground black pepper
DIRECTIONS
1) To prepare the salsa, in a medium bowl, combine corn, avocado, poblano pepper, red onion, apple cider vinegar, sugar, salt and pepper. Gently toss to combine, cover and refrigerate while roasting fish.
2) Preheat oven to 400ºF. Place fillets on a baking sheet lined with parchment paper. Rub each piece of halibut with olive oil. In a small bowl, combine cumin, chili powder, salt and pepper. Sprinkle over each piece of fish. Bake until fish is just firm to the touch, about 12-14 minutes. To serve, place a large spoonful of salsa on a plate and top with fish.
Serves 4