Tips for preparing healthy meals & snacks
When you cook at home, decrease the amount of salt you use by adding herbs, spices and seasonings. Over time, your taste buds will adjust to less salt in your food.
Instead of using pre-seasoned foods, salt, gravy or sauces, enhance the flavour of your food by adding:
citrus zest
flavoured vinegar
fresh or dried herbs or spices
Read our tips on how to prepare meals and snacks using healthy ingredients.
Flavour Pairings
Here are a few ideas to get you started:
Eat Well – Live Well
Cooking more often can support healthy eating habits. When making meals and snacks, use ingredients that are not highly processed.
Learn more about this healthy eating recommendation.
Healthy Quesadillas with Smoky Black Beans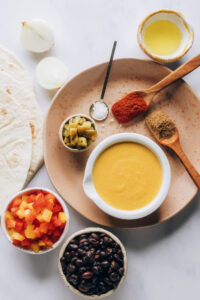 This quesadilla is packed with flavor thanks to smoky spices and our easy vegan cheddar cheese and filled with fiber and protein (hello, black beans!) to keep you full. Did we mention there's just 30 minutes and 9 ingredients required? So enough talk — let us show you how it's done! CLICK HERE